Report:UEC participates [UNS] UEC EDU FEST 2021
March 18, 2021
On March 13, 2021, Universitas Sebelas Maret (UNS), UEC's partner university in Indonesia, held [UNS] UEC EDU FEST 2021 online. The event was held as part of commemoration of 45th anniversary of UNS (March 11th 2021) and to introduce UEC and Japanese culture on this occasion.
The seminar started with an opening remarks by Dr. Elisa Herawati, the moderator, and welcome address by Prof. Dr. rer.nat. Sajidan, Vice Rector for Planning, Partnership, Business and Information Affairs. Then, Prof. Dr. ABE Kohji, Member of the Board of Directors for Education and International
Strategy of UEC, gave a congratulatory speech to UNS, and Prof. Dr. WATANABE Shinichi, Director of the Center for International Programs and
Exchange, introduced an overview of UEC and its international exchange activities. Assoc. Prof. Dr. ENOKI Koji of the Department of Mechanical and Intelligent Systems Engineering of UEC gave presentation on the research collaboration and other activities with UNS. Followed by Dr. Eng. Indri Yaningsih of UNS' speech on "Experience of research, scholarship and creative", Dr. Kusumaningdyah Nurul Handayani, Head of Center for Japanese Studies, gave presentation on "Amazing about Japanese Culture". Finally, Dr. Budi Kristiawan, Head of the UEC Office at UNS, gave an introduction of the UEC Office at UNS.
UEC signed a cooperation agreement with Universitas Sebelas Maret in January 2020, and the UEC Office has been established on UNS campus.
This successful [UNS] UEC EDU FEST 2021 will further enhance the research and student exchange between the two universities.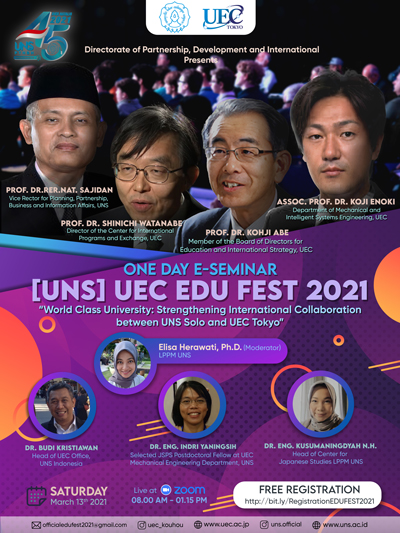 Poster