Report:Delegation of KMITL and CMKL visits UEC
July 12, 2022
On June 30, 2022, Assoc. Prof. Dr. Anuwat Jangwanitlert, President of King Mongkut's Institute of Technology, Ladkrabang (KMITL), and Assoc. Prof. Dr. Supan Tungjitkusolmun, President of CMKL University (CMKL) visited the University of Electro-Communications (UEC).
UEC President Tano Shunichi, Dr. Abe Koji, Member of the Board of Directors of UEC, Prof. Watanabe Shinichi, Director of International Education Center and other UEC professors welcomed delegation of KMITL and CMKL, and had active discussion for continued and further collaboration between the universities.
KMITL is a university of science and technology established in 1960, and has been producing many excellent researchers since its establishment. KMITL and UEC signed cooperation agreement in 1997 and have been cultivating mutual collaboration through the exchange of faculties and students.
CMKL is established in 2017 in collaboration with KMITL and Carnegie Mellon University, USA. Assoc. Prof. Dr. Supan Tungjitkusolmun, President of CMKL, gave an overview of CMKL and its exchange and internship programs that create international and talented human resources.
We look forward to further development of educational and research exchanges between the universities in the future.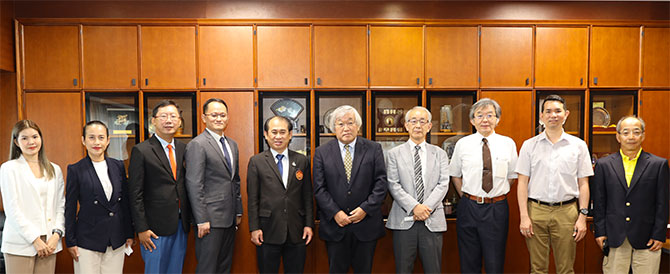 Group Photo