Report:UEC holds the 9th UEC Seminar in ASEAN, FY2022
January 30, 2023
Prof. Pham Cong-Kha
Director of UEC ASEAN Research and Education Center(UAREC)
The University of Electro-Communications(UEC)organized "The 9th UEC Seminar in ASEAN, FY2022" on 10 December 2022, in collaboration with Le Quy Don University of Technology(LQDTU), Vietnam.
As an event organized by the UEC ASEAN Education and Research Support Center, the UEC Seminar in ASEAN has been held annually in the ASEAN region since 2015. This was the 9th seminar held, and conducted in a hybrid session connecting local venues and online participants.
The theme of the program was "Resume Collaborations for Research and Education", which allowed for presentations and discussions on how to re-accelerate collaboration after the COVID pandemic.
The seminar began with opening remarks by Prof. Tran Xuan Nam, the vice president of LQDTU, and Prof. Abe Kohji, the director for International Strategy of UEC, followed by speeches from 14 representatives from the Embassy of Japan in Vietnam, partner universities, and research institutes in the ASEAN region.
Following the speeches, the UEC's departments and research centers described research case studies that could lead to collaboration with universities in the ASEAN region, and introduction of the UEC's ever-expanding international education.
After that, the Japan Society for the Promotion of Science, the Japan Science and Technology Agency, and the Japan International Cooperation Agency introduced the activities of Japanese governmental organizations that encourage collaboration with Japanese universities in the ASEAN region. In addition, the presentation also included an introduction of activities on cooperation with industry in Vietnam.
The seminar closed with closing remarks by Prof. Abe Kohji.
It featured approximately 70 participants, including representatives of universities and companies from ASEAN countries, government-affiliated institutions, and representatives of the universities. The seminar was a great opportunity to reaffirm and reaccelerate collaborations among partner universities and research institutions.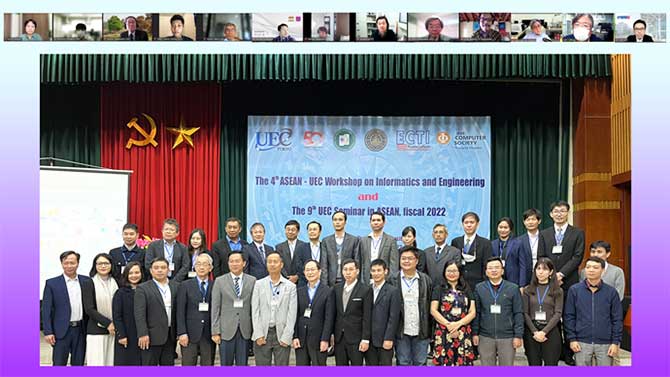 The 9th UEC Seminar in ASEAN Group photo - Le Quy Dong Technical University and online - Photo