Report:A student scheduled to complete the Double Degree Program paid a courtesy call to the president of the University of Electro-Communications
March 2, 2023
In March 2023, Mendoza Velasquez Israel, a first Double Degree(DD)Program student with the Instituto Politécnico Nacional(IPN)in Mexico, is expected to complete his doctoral studies at the University of Electro-Communications (UEC). On 10 February, together with IPN Prof. Hector Perez-Meana and Prof. Mariko Nakano-Miyatake who visited Japan, he paid a courtesy call on the president of UEC Tano Shunichi and the member of the board of directors Abe Koji(Education and International Strategy)to announce this wonderful news.
During the visit, Prof Hector Perez-Meana mentioned that the student exchanges with UEC was celebrating the 25th anniversary and that UEC had hosted around 100 exchange students so far. Next, Mendoza Velasquez Israel and his UEC supervisor, Prof. Haneda, reported on their research at UEC. The president Tano congratulated on his research at UEC and encouraged him to complete his Ph.D. at IPN.
IPN and UEC have been exchanging students since the signing of Cooperation Agreement in 1998. As a partner university in the Inter-University Exchange Project implemented from 2015 to 2019, UEC has been actively engaged in student exchanges, which resulted in the signing of Memorandum of Understanding for the DD Program in 2018, and 2 doctoral students have been accepted as DD Program students.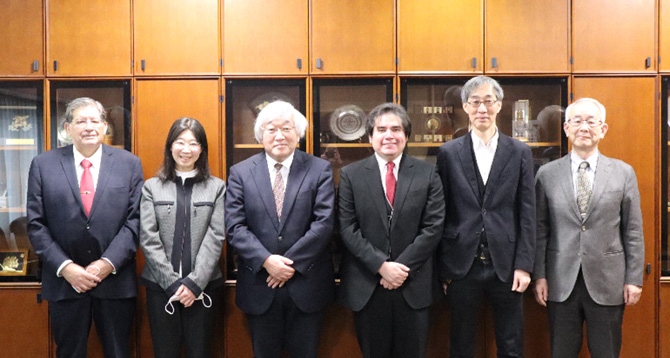 Group photo