Report:The 10th UEC Seminar, 2023
September 14, 2023
The 10th UEC Seminar, 2023, held on Saturday, September 9, 2023, the University of Electro-Communications(UEC)held the 10th UEC Seminar at Suan Sunandha Rajabhat University in Bangkok, Thailand. This event featured the participation of distinguished researchers and executives from partner organizations, government agencies, and companies in the ASEAN region.
The UEC Seminar in ASEAN is an annual event organized by the UEC ASEAN Research and Education Center(UAREC)since 2015.
This year marked the 10th iteration of the seminar, and it was conducted in a hybrid format, with sessions taking place both locally and online.
The seminar commenced with opening remarks delivered by Vice President Bundit Pungnirund of Suan Sunandha Rajabhat University, President Tano of UEC, and Prof. Pham, the Director of UAREC. Additionally, representatives from the Embassy of Japan in Thailand offered their insights. Guest speeches were presented by partner universities and research institutions from the ASEAN region.
The event also highlighted the university's research initiatives and international education programs, aiming to foster collaboration with universities throughout the ASEAN region. Organizations such as the Japan Society for the Promotion of Science, Japan International Cooperation Agency, National Institute of Information and Communications Technology, and Tokyo Metropolitan Industrial Technology Research Institute showcased their activities and programs in the ASEAN region.
Furthermore, there was a presentation on collaborative efforts with industries in Thailand, along with greetings from the Meguro-kai, the university's alumni association, which shared details about its activities. The seminar concluded with a closing speech by Dr. Abe, the member of the Board of Directors in charge of education and international strategy.
The seminar achieved significant success, attracting approximately 110 participants, including representatives from universities, companies, and government organizations from various ASEAN countries.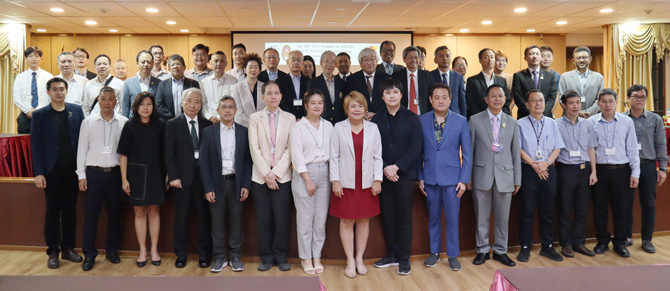 The 10th UEC Seminar group photo