Report:The 5th ASEAN-UEC Workshop on Informatics and Engineering, 2023
September 28, 2023
The University of Electro-Communications(UEC) and ECTI(Electronics, Computer, Telecommunications, and Information) Association organized the international workshop titled "The 5th ASEAN-UEC Workshop on Informatics and Engineering" on Sunday, September 10, 2023. The event took place at Suan Sunandha Rajabhat University in Bangkok, Thailand. This annual workshop has been co-hosted with the ECTI Association(Thailand) since 2019, aiming to provide a platform for students from the ASEAN region and our university to showcase their research at international conferences.
The 5th ASEAN-UEC Workshop was held in a hybrid format, with Suan Sunandha Rajabhat University serving as the local venue while participants from various regions joined the event remotely.
The first half of the workshop commenced with welcoming remarks from representatives of Suan Sunandha Rajabhat University, the ECTI Association, and UEC. This was followed by two sessions featuring invited speakers from various Asian countries, totaling 7 enlightening lectures. The workshop featured a broad range of perspectives, as speakers represented countries from Thailand, Vietnam, Indonesia, Malaysia, Cambodia, as well as Tokyo University of Agriculture and Technology and UEC, each delivering a distinct presentation.
The second half of the workshop featured video presentations, 29 poster presentations delivered by students and young researchers from ASEAN countries and UEC. These sessions also included interactive Q&A sessions, which were conducted both onsite and online. Following the poster presentations, the "Young Researchers Encouragement Award" was granted to 8 students who had presented their posters at the Thai venue.
The workshop had approximately 100 participants, combining those present at the onsite venue and those participating online. This gathering provided an invaluable opportunity for students from the ASEAN region and our university to showcase their research on an international platform.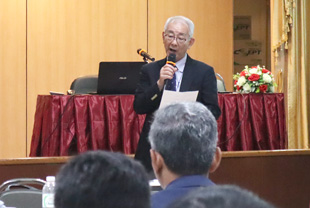 Opening Remarks by Prof. Koji Abe(Executive Board Director of UEC)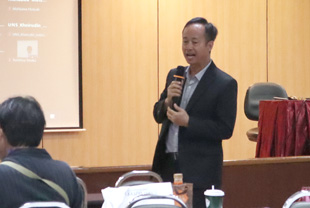 Opening Remarks by Prof. Kosin(KMUTT & ECTI)