Characteristics and Appeal
Fully equipped education and research environment and high employment rate for UEC graduates.
Broad Range of Fields in Science and Technology
Because of its name, University of Electro-Communications, people tend to think that this university is limited only to the fields of electricity and communications. In fact, however, we conduct education and research in a wide range of fields that share as a common denominator a grounding in informatics, electricity and communications. These fields include materials science, life sciences, photonics, electronics, robotics, mechanical engineering and media science. Our students delve into every aspect of these fields from the fundamentals of science and engineering to their applications.
Multilayered Education and Cutting-Edge Facilities
The characteristic feature of UEC education is that it is multi-layered. There are hands-on classes with a wealth of seminars and laboratory work, on-site career-oriented education relying on our strong relationship with industry, and an international approach characterized by our strong international exchange student programs. With fully developed facilities and equipment such as our high-speed network environment and state-of-the library, UEC is producing skilled scientists and engineers equipped with advanced specialized expertise who will contribute to the global community.
A Complete "Monodzukuri" (Traditional Japanese Concept of craftsmanship) Education Program
A homonym of the Japanese word for academic ability can be written with the character for "enjoyment" in place of "academic." At UEC we use this word to mean the capacity to enjoy learning, creating and working. We believe that "a monodzukuri (traditional Japanese concept of craftsmanship) education is based on understanding the joy and pleasure inherent in creating things and experiencing the feeling of achievement in having built something." We developed our educational program to foster the capacity to enjoy building things and to increase creativity. To this end, we have implemented projects such as the "robo-mechanics workshop," "electronic engineering workshop," and "human media workshop."
Convenient Location
UEC is located in the Tama area (Chofu City), a part of Tokyo where many universities are found, and the campus environment is full of trees and greenery. Even among the many universities in the area, UEC is blessed with a prime location. It is only a five-minute walk from the nearest train station (Chofu Station) and just a 15-minute train ride from Shinjuku on the Keio Line. Another feature of the campus is that it compact. The entire university, including the graduate schools, is concentrated in one location.
Five University Credit Reciprocity System for Mutual Exchanges and Enhanced Curriculum
Five national universities (Tokyo University of Foreign Studies, Tokyo Gakugei University, Tokyo University of Agriculture and Technology, Hitsotsubashi University and UEC) located in western Tokyo (Tama area) have implemented an academic credit reciprocity system with the goal of mutual exchanges and enhanced curriculums. Currently, UEC students can attend and receive credit for approximately 1000 courses at the affiliated universities.
Top-Ranked Nationally in Employment Rate of Graduates
Year after year, UEC is one of the top-ranked national universities in terms of the percentage of its students who gain employment after graduation. This is a reflection of the high regard in which industry holds the elite specialists that the school sends out into the workplace each year. Furthermore, UEC is perennially near the top of rankings compiled by several mass media outlets regarding "quality of employment," in other words, how good those jobs are. An extensive support system, including the Office of Employment Assistance, are behind these high rankings.
UEC Graduates Have Great Reputation
At UEC, we believe that "It is vital for scientists and engineers who will contribute to society to have a deep appreciation of the arts and a sense of humanity," and thus we also work to provide an education in the humanities. Graduates who have received an extensive technical education covering fundamentals and applications as well as a liberal arts education have both advanced specialized knowledge and an excellent character. As a result, UEC graduates have a great reputation not only in Japan but internationally.
More about UEC

Fully equipped education and research environment and high employment rate for UEC graduates.

The University of Electro-Communications (UEC), aiming for the creation and achievement of knowledge and skill to contribute to the sustainable development of humankind, has the following three mission policies.
For the realization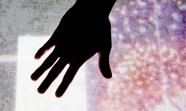 The mission statement of the University of Electro-Communications (UEC) mentions that we will cultivate academic excellences that bring about bright future of the earth and humanity, as well as create knowledge and skills.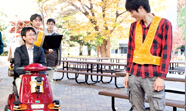 "Comprehensive Communication Sciences", which UEC advocates, promotes research and education in accordance with two purposes of "communication": (1) communication as a target of scientific and engineering research, and (2) communication as a tool for promoting collaborative research.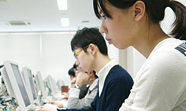 Through the implementation of our Action Plan to promote the Gender Equality Program, we will create an environment where students and young researchers from around the world can gather to enthusiastically study and do research in a free and relaxed atmosphere and thereby give birth to new and unique ideas.